World Class Stage Piano Rental
Yamaha C7 ebony satin stage finish, 7'6" industry standard.
Well seasoned and optiimized at 42% humidity: pristinely maintained.
Fully adjustable leather artist bench.
Artist-preferred Ivorite keytops.
Top of the line, studio quality six-channel sound reinforcement system, including:
Matching Swiss-made Schertler stereo piano mics.
3-zoned (low, mid, high) Helpinstill piano pick up.
Barcus-Berry transducer pick-up for super high frequencies.
Proco studio D.I. outputs.
50'/8-channel stage snake.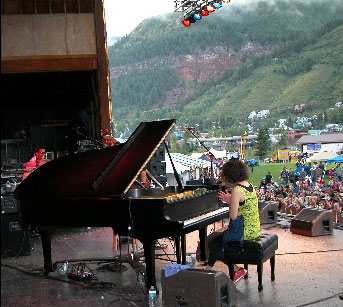 Hiromi, pianist with Stanley Clark.
Expertly voiced, regulated & tuned to A440 concert pitch on-site by our own experienced technicians.
Expertly delivered, set-up on our commercial quality stage dolly, cleaned & prepped, positioned and blocked in place by piano delivery specialists using customized moving equipment.
This piano has been contracted annually to the main stage at Telluride Jazz Festival since 2008 delighting world class musicians such as Allen Toussaint, Dr. John, The Stanley Clark Band, Hiromi, Chucho Valdes, Monte Alexander, Jon Cleary and many more!
All this for $1700 including delivery/pick-up*
(special pricing for multiple days)
*Mileage may apply.

303.550.6027 (prefer texts)
holly@americanclassicpiano.com